FLOWERS & TOTEMS - A FEAST FOR THE EYES
with Carol Simmons
March 24 - 26, 2017
In this fast-paced 3-day workshop, you will use slices of simple canes to make two types of 3-dimensional objects: flowers and totems. Lots of opportunity for your imagination to run wild!
This will be a fast-paced workshop with no time to teach basic techniques. Participants should know how to make skinner blends using a pasta machine and make simple, shaded canes.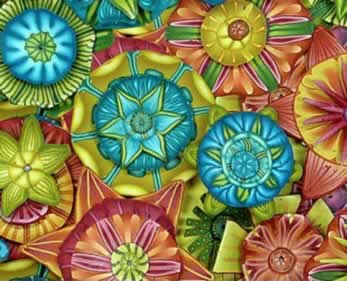 PRICE: Members $300, Non-Members $325
Deposit for Members & Non-Members - $100

Balance for Members - $200

Balance for Non-Members - $225

Full Payment for Members - $300

Full Payment for Non-Members - $325

In Carol Simmons' Flowers & Totems workshop you will use slices of simple canes to make two types of 3-dimensional objects: flowers and totems. The same canes will be used for both objects. After the techniques have been demonstrated, you can choose to focus your efforts on one type of object or both.
You will begin by making skinner blends of your chosen colors. These blends will be transformed into several types of canes which will be thinly sliced and used as flower components and/or decorative elements on totems. I will show you how to assemble the flower components on wires to form complex and unusual flowers drawn from a combination of nature and your imagination. I will also show you how to make stems and bases for the flowers.
The totems will allow you to explore various combinations of colors and patterns while creating radially symmetric designs over scrap clay. The totems can be designed to stack on a central wire, or they can become interesting objects just begging to be played with on your coffee table. With only slight modifications, they can also be used as pendants and focal beads.
This class will allow you to let your imagination run wild. Flowers and totems can even be combined to create more complex sculptures. An added bonus, there will be lots of leftover cane slices for you to play with at home.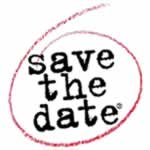 SAVE THE DATE! 2017 LONE STAR RETREAT
SEPTEMBER 22 - 24, 2017
South Shore Harbour Resort & Conference Center, League City, Texas. 3 days with our wonderful teachers. Mark your calendar!